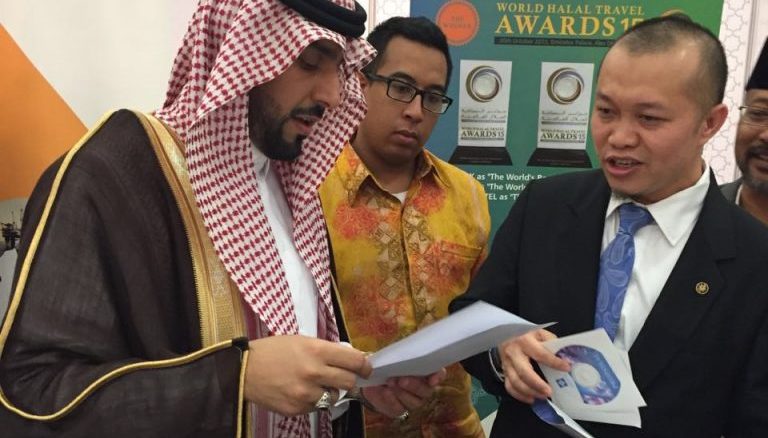 The committee of International Islamic Fair (IIF) 2016 is tireless in optimizing its efforts in holding a bonafide international activity, such as by inviting the Saudi Arabia Minister of Hajj, Dr. Muhammad Saleh Benten as a guest for a seminar revolving around the theme of hajj quota.
The invitation, extended by Magda Safrina, Chairman of IIF, was officially and directly given by Muhammad Hasan, the Head of the Bilateral Middle-East Chamber of Commerce and Industry, who also doubles as the CEO of Gaido Group, in The First MANAFE Forum held by the Mecca Chamber of Commerce and Industry on Saturday, September 3 2016. In this opportunity, Dr. Muhammad Saleh Benten expressed his interest and enthusiasm in becoming a guest speaker in IIF 2016.
In this event, the committee of IIF also communicated with the Chamber of Commerce and Industry representatives of the participating nations, among them Saudi Arabia, Turkey, Egypt, Tunisia, France, Nigeria, South Africa, USA, Bangladesh, Malaysia, Pakistan, and China.
The Indonesian party at The First MANAFE Forum consisted of DR. Gunawan (Chairman of the Indonesia Trade Promotion Center, Jeddah) H. Anda (member of the Eighth Commission of the Indonesian House of Representatives), Jurman (Economic Counsellor of the Indonesian Embassy, Jeddah) and Bahtiar Saleh (Economic Function Counsoller of the Indonesian Embassy, Jeddah).
International Islamic Fair 2016 will be held in JIExpo Kemayoran, Jakarta, on October 20 – 23 2016. Apart from being an exhibition event, IIF will also showcase a variety of activities, including but not limited to competitions, artistic performances and cultures from Islamic countries, cooking attractions featuring international chefs, muslim fashion shows, as well as seminars and talkshows featuring credible guest speakers, both local and abroad.
Sumber: http://iifindonesia.com/2016/en_US/iif-invites-the-hajj-minister-of-saudi-arabia-as-guest-speaker/