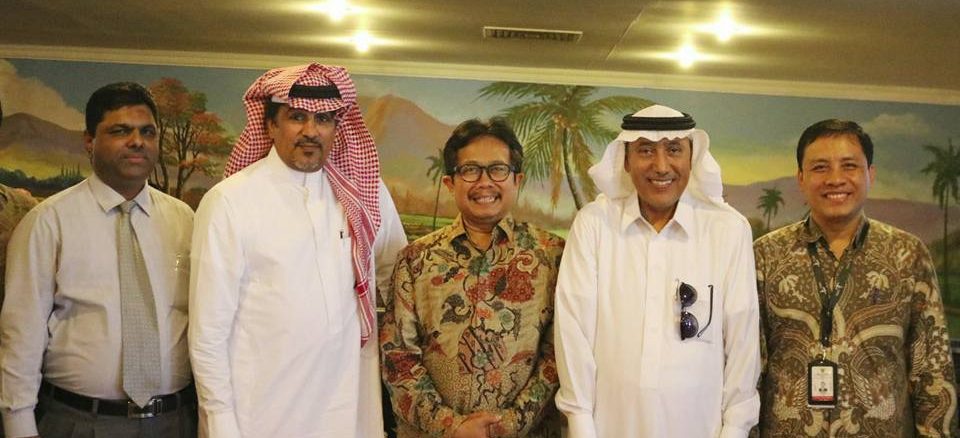 Saudi Gazette
SEVERAL Saudi business firms across the western region in Kingdom are keen to boost investment and trade ties with Indonesia. Many Saudi businesses have also expressed their interest to visit the country and participate in the Trade Expo Indonesia (TEI), according to the top diplomat of Indonesia.
"We are enhancing and expanding the theme of P2P (peoples to people) and B2B (business to business) basis contact besides G2G (government to government) following the visit of Custodian of Two Holy Mosques King Salman to Indonesia," said Mohamad Hery Saripuddin, consul general of Indonesia.
While highlighting TEI recently, Saripuddin said TEI evinced keen interest from several businessmen from Al Baha, Madinah and Makkah region. Businessmen from Jeddah too expressed their interest in investing in Indonesia and were ready to explore opportunities in a wide range of areas that is to be featured in TEI.
Saripuddin said the visa-free entry facility for Saudi nationals to visit Indonesia has been boosting not only tourism but also bolstering mutual cooperation among business communities of the two countries.
The flagship event of TEI, the country's largest trade show with participation of government and private sector, will be held for four days from Oct. 11 at the Indonesia Convention Exhibition (ICE) in BSD city, Banten.
The trade show will feature more than 1,000 exhibitors and 3,000 products and services are to be exhibited in 7 product zones.
Last year, a total of 15,567 visitors had participated in the exhibition and among them 93 Saudi business delegates, represented by various sectors, from western region, took part, the consul general said.
"We are hopeful that this year the number from the western region would grow much more as the royal visit of King Salman has instilled a new spirit among the business communities of both the countries," Saripuddin added.
He also said that Indonesian-Saudi Business Council has been established after the visit of King Salman, and both sides are working to set up a joint mechanism in this regard.
Saripuddin, in a new disclosure, said that flag carrier, Garuda, and the hospitality industry in Indonesia may apply special and friendly tariff rates for visiting Saudi delegates.
The consul general advised that those who needed further assistance and information regarding the trade exhibition can contact personnel on 0503607443 or 0538980460.
Focusing on the potential tourism side, Saripuddin said that halal tourism is surging in the nation of islands as this has triggered a spurt of tourists from Saudi Arabia and other Gulf countries.
He said that Kingdom Holding Company of Prince Alwaleed Bin Talal has five luxury hotels and resorts in Indonesia.
Many Saudi citizens from various provinces love to visit Indonesia as they feel comfortable and safe, he added.
The segment of Umrah and Haj pilgrims from Indonesia to the Kingdom is the largest and it will boost bilateral trade in non-oil sector as 1.2 million pilgrims are visiting the two holy cities and Jeddah every year, the consul general said.
Saripuddin said that the Indonesian trade mission had mulled on innovative ideas of branding buses that carry Indonesian Haj pilgrims between the holy cities with the wonderful Indonesia brand to promote tourism back home.
He also said that several Indonesian real estate agencies are keen on enter the two holy cities for investment, but due to some stringent conditions they haven't progressed further.
On bilateral trade, Saripuddin said that there is an increase of trade between two countries in non-oil and gas sector. Indonesia has recorded positive trend from $468 million in 2016 to $532.5 million as of April 2017.
Textile, textile products (TPT), electronics, footwear, automotive, shrimp, cacao, medical products, furniture, jewelry and coffee are main products that Indonesia exporting to Kingdom, according to him.
Consul Agus Muktamar, ITPC Director in Jeddah Gunawan, Vice Consul Umar Badar Syah also attended the briefing.
source : 
http://saudigazette.com.sa/article/514926/BUSINESS/Saudi