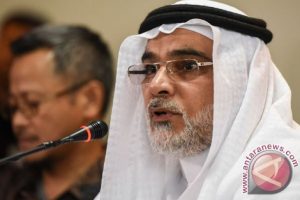 Jakarta (ANTARA News) – Saudi Arabian Ambassador to Indonesia Osama bin Mohammed Abdullah Al Shuaibi provides his views and his evaluation on relationships and the cooperation of Saudi Arabia and Indonesia a year after King Salman's visit to Indonesia early last March. Ambassador Osama said the two countries have the potential to improve relations and cooperation in various agreements that have been made. The Central Executive Board of the Al-Irsyad Society presented Ambassador Osama in the discussion limited-themed "Relationship and Cooperation Indonesia-Saudi Arabia, A Year After The visit of King Salman to Indonesia "in Jakarta and attended among others by the Chairman DPP Association of Al Irsyad dr. Basyir Syawie, Director of Middle East Affairs at the Ministry Foreign Affairs Sunarko, Head of Middle Eastern Studies Program University of Indonesia M. Luthfie Zuhdi PhD and Vice Chairman of Kadin Middle East and OIC Affairs, Mohamad Bawazier. "The officials of both countries follow up on the agreements reached at the time visit King Salman to Indonesia and meet with President Joko Widodo, "said Ambassador Osama. According to him, Indonesia has rich natural resources and many, and has an appeal to Saudi Arabian entrepreneurs to invest and tourists for a vacation.
In early March 2017, King Salman Bin Abdulaziz Al Saud made a visit historic to Indonesia. This is the second visit after 47 years then King Faisal bin Abdulaziz bin Abdurrahman as-Saud also visited Indonesia. In the state visit of King Salman, as many as 11 cooperation agreements between
the two countries in various sectors have been signed. Statement with both heads the government emphasizes that cooperation needs to be immediately realized and for realizing the plan the two governments formed a team of accelerated cooperation. President Joko Widodo who has visited Saudi Arabia in 2015 has commissioned minister of energy and mineral resources as team leader and King Salam pointed Crown Prince Prince Muhammad bin Salman. The relations between Indonesia and Saudi Arabia which are the two member states of the Organization Islamic Cooperation (OIC) and G-20, other than as members of the United Nations and Ge Non-Aligned Movement (NAM) no doubt. Socio-cultural relationships, for example strong and robust despite trade both experienced ups and downs, Luthfie said. "Indonesia attracts investors from various countries and included in the top 10 countries of the world that are in demand for planting capital ". According to him, entrepreneurs who are members of the Association of Al-Ershad can making "a bridge" and becoming a trading partner of Saudi Arabian businessmen and The middle East. Mohammad Bawazier, who is also one of the leaders of the DPP of the Association of Al-Ershad and has an oil and gas business, advising Indonesian businessmen to be patient and do not be discouraged in doing business with their partners in the East Central and Gulf. "There are successful Indonesian businessmen in the region after more than 30 times meeting but also to be careful because on both sides, some feel 'cheated', " he said.
Therefore, according to him, the entrepreneurs should also do not transact on line. Efforts to attract investors from both sides have been done. For example, as many as eight businessmen from Yemen in Saudi Arabia recently held meeting at Wisma Konsul Jenderal RI Jeddah which is packed in "business gathering" to pioneer trade and investment relations with Indonesia. The presence of businessmen in Wisma Konjen is driven by a product importer tires made in Indonesia, which is the owner of Bin Sihon Group Company.
They come from a variety of business lines such as rubber products and derivatives, product yields
forests, property, gold and jewelry, food and beverages.
According to the economic and trade team as the initiator of the event, the purpose of the meeting is to facilitate business actor from Yemen who is abroad to pioneer trade relations, explore investment opportunities and tourism prospects in Indonesia.
The businessman's representative noted that Indonesia and Yemen had close relationships in various fields with Indonesian society. The Yemeni people are well known in Indonesia as immigrants introducing Islam to a pluralistic Indonesian population. Indonesia and Yemen has a cultural-historical proximity. Yemeni immigrants were warmly welcomed by Indonesians as traders or merchant. In addition to trade interests, the merchant brings the mission dakwah invites local people to embrace Islam. They are in the circle Indonesian people are known as "habib", ie people who have lines descendants of Prophet Muhammad SAW. No wonder their offspring in Indonesia have diverse professions. No wonder their offspring in Indonesia have diverse professions. Some are lecturers, researchers even become high state officials. In order to follow up the meeting, the economic and trade team of Consulate General in Jeddah scheduled a visit of a group of businessmen from Yemen to Indonesia in April upcoming.
Consulate General of Jeddah will assist in making easy visit visa arrangement business to Indonesia for entrepreneurs committed to and promote trade relations and explore investment opportunities.
"We are coordinating with the Ministry of Justice and Human Rights with submit recommendation to give ease of visit visa for businessman of Yemen, "said Consul General of Indonesia Jeddah Mohamad Heru Saripudin. Ali Saleh Al Sohaibi, leader of Bin Shihon Group expressed his joy over such efforts.
Tire products are one of Indonesia's main export commodities to Saudi Arabia and has a relatively large market share in the country. In early 2017, a research institute called "Peristence Research Market" states that the need for tires in Saudi Arabia by 2032 will be experienced demand growth of 3.2 times, compared to 2016. Based on calculations using the Compound Annual Growth Rate (CAGR) method,
tire demand in Saudi Arabia in 2016 amounted to 22,606,000 units per year, year 2017 of 24,415,000 units per year, in 2018 of 26,368,000 units per year, year 2019 of 28,478,000 units per year and by 2020 the need for tires amounting to 30,756,240 units per year. This means the growth of tire product demand experienced an increase of eight percent per year. From the above-mentioned growth calculations, the most prominent demand is demand on light truck types and demand from passenger cars in Saudi Arabia. Increased demand for tires can encourage companies to invested in the construction of the tire industry in Saudi Arabia with consideration availability of key raw materials (synthetic rubber). Seeing such a big opportunity, Economic and Trade Team Consulate General Jeddah
has been actively communicating with various tire importers from Saudi Arabia for continues to facilitate some tire importer companies from the country to be encouraged doing "buying mission" to Indonesia.
One of the most cooperative companies to establish communication with the Team Economic and Trade Consulate General of the Republic of Indonesia Jeddah is a company of Bin Sihon and Bahakam Co & Sons. Bin Sihon is a Saudi Arabian company engaged in importation tire products, batteries, lubricants, trucks, machinery, household appliances, plastic products and packaging, construction and real estate companies, and joint ventures. While PT Bahakam Co & Sons Ltd. is a partner of Bin Sihon's company as well expressed interest in finding tire products from Indonesia. In addition to the second tire product
the company was also interested in finding batteries from Indonesia.
Saudi Arabia is one country with the highest per capita value of vehicles globaly. Due to extreme weather conditions, the tire replacement period is relatively short is the main reason to increase sales of replacement tires in the country.
Tire demand for the coming years is based on growth rate an annual average of eight percent. There is no competition from inside producers because there is no local tire production in KSA. Gunawan, Head of ITPC Jeddah and member of Economic and Trade Team of Consulate General of Jeddah adding tire design specifications for lightweight cars also customized car specifications used. Tires used for lightweight cars should be able to withstand loads and momentum that occurs when the vehicle is driven with slow speed, medium and high speed. Momentum that occurs when the vehicle is driven by
slow, medium speed and high speed. "Indonesian rubber products including tire products have a large market share in Saudi Arabia, "he said.
Cooking spices and groceries
After graduating from a series of tests conducted by Saudi Food and Drug Authority (SFDA) Saudi Arabia and also by looking at potential food market opportunities and beverages in Saudi Arabia, PT Sasa as a major producer of cooking spices and ingredients Indonesian food in collaboration with Sami Alkhatiri Est as a partner company local Saudi Arabia is ready to build a factory in Saudi Arabia to meet demand
markets in the Middle East region. PT Sasa Inti and the Economic and Trade Team of Consulate General of Jeddah promoted and undertook a series of "Business to Business:" meetings with buyers, Food festivals and Indonesian drink that was held at the Pesta Rakyat at Wisma KJRI Jeddah as well a series of cooking demos with Sasa products in several tourist areas in Saudi Arabia. Consul General R.I Jeddah, M Hery Saripudin said that all citizens Indonesians living in Saudi Arabia are the ambassadors of Indonesian product promotion including Consul General R.I Jeddah, M Hery Saripudin said that all citizens Indonesians living in Saudi Arabia are the ambassadors of Indonesian product promotion including products from Sasa. Economic and Trade Team of Consulate General of Jeddah as the driving force in boosting Indonesia's non-oil exports to Saudi Arabia's efforts with the rest potential by working hard to promote Sasa products to be accepted by the people of Saudi Arabia. The key to successful promotions is by doing a more intensive and effective approach to all Indonesian citizens as well as the Indonesian diaspora working at Saudi Arabia. The number of Indonesian citizens who perform the Hajj and Umrah and the mukimin living in Saudi Arabia is a potential market or captive market for products Indonesia especially food and beverage products. In addition to the existing markets, Saudi Arabian society is very much about Indonesia well and consider Indonesia as the second home for the citizens of Saudi Arabia,
so it is not excessive if the Arab community is very familiar with everything  related to Indonesia.
This is an opportunity for the Economy and Trade Team of the Consulate General of Jeddah for continues to explore food innovations from Indonesia to continue to be promoted in Saudi Arabia market. The people of Saudi Arabia are very familiar with meatballs, sate, fried rice, rendang  so that in the last five years many emerging or adding branches of Indonesian restaurants in Saudi Arabia such as the opening of Mang Oedin's Meatball restaurant in front of Al Rahmah Floating Mosque, Opening Wong Solo Restaurant in Balad Jeddah, the opening of Mr Sate's Restaurant in Syarafiah Jeddah area and branch opening Batavia restaurant in the city of Medina. Gunawan added that the Group of food and beverage commodities is one of 10 potential commodities entering Saudi Arabia market. Main commodities and other potential commodities namely automotive, palm products, fish and fish processing, rubber products and rubber processing (including tire / tire), plywood / plywood, pulp and paper, textile and textile products, furniture, home d? cast and building materials have also been long
flooding Saudi Arabia market. To attract Saudi citizens to come to Indonesia, the managers of travel agencies offers tour packages "napak tilas" Raja Salman journey from Jakarta to Bali. "The number of Saudi citizens visiting Indonesia is increasing and so are the frequencies flights and their length of stay here, "Sunarko said.
Source : https://www.antaranews.com/berita/696550/ikhtiar-indonesia-saudi-setahun-setelah-kunjungan-raja-salman