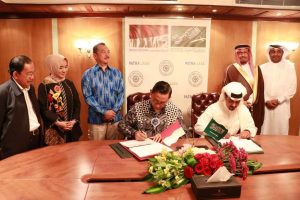 One more Indonesian company signed a joint venture agreement with a Saudi company
.
Mecca – Starting the new year, another company from Indonesia spread its wings to Saudi Arabia. PT Patra Jasa, a subsidiary of PT Pertamina (Persero) Tbk, Saturday, January 5, 2019 confirmed a joint commitment through the ratification of a Joint Venture Agreement (JVA) agreement with Marei Bin Mahfouz Group & Co (MBM) and ELMAQ.
.
The agreement was signed by Hari Tjahya Wibowo, CEO of PT Patra Jasa and Abdullah Mari bin Mahfouz, Deputy Chairman of the MBM Board, at the Intercontinental Daruttauhid Hotel Holy City of Mecca witnessed by Deputy Mining, Strategic Industry and Media Ministry of BUMN Fajar Harry Sampurno, Pertamina CEO Nicke Wisyawati, RI Consul General (Consul General) of Mohamad Hery Saripudin, Patra Jasa Chief Operating Officer (COO) Ferry Febrianto, and other officials from the Ministry of BUMN and KJRI Jeddah.
.
"For PT Pertamina this cooperation is not just business cooperation, but also an effort to strengthen relations between the two countries," said Pertamina CEO Nicke Widyawati in his speech.
.
Nicke added that relations between Indonesia and Saudi Arabia had begun since the reign of President Soekarno. The relationship was further strengthened in early March 2017 with the historic visit of King Salman Bin Abdulaziz Al Saud to Indonesia followed by the signing of 11 MoUs by the two countries.
.
MBM Group and ELMAQ, which was founded in Mecca in 1965, had collaborated with one of the Indonesian BUMNs, namely PT Kimia Farma in 2017, by opening as many as 34 Kimia Farma Dawaa pharmacy outlets in a number of locations in Mecca, Medina and Jeddah .
.
PT Patra Jasa Hari CEO Tjahya Wibowo said, the signing was a follow-up to the signing of the Head of Agreement (HoA) signed earlier, October 31, 2018 in London, England.
.
"Through this agreement, all parties agreed to form a joint venture in the management and leasing of hotels in Mecca, the plan will be extended to Madinah and Indonesia," Hari said.
.
Patra Jasa, established since 1975, captures promising business potential in the hospitality sector in Saudi Arabia. The interest of the Indonesian people, in particular, and Muslims in general from all over the world to perform the Hajj and Umrah services to the Holy Land of Mecca and make pilgrimages to the City of Rasulullah in Madinah continued to increase.
.
Based on data from the General Authority for Statistics Kingdom of Saudi Arabia, from 2015 to 2018 the number of pilgrims increased by an average of 7% and the increase in Umrah pilgrims in 2017 reached 15%.
.
MBM Group currently has 15 hotels in Mecca that are already in operation, and 3 hotels that are still under construction. Four of them are four-star hotels, and 14 other hotels are three-star.
.
"On behalf of our father, Sheikh Marei Mubarak Bin Mahfouz, and all his companies expressed their sincere gratitude to the Minister of BUMN and Deputy Ministry of SOEs for their support to expand investment into Saudi Arabia starting from the Islamic Capital and Muslims," ​​said Abdullah Mari in his remarks.
.
The Indonesian Consul General in Jeddah who participated in the process of ratifying the JVA agreement stressed that the Indonesian Consulate General in Jeddah was committed to furthering economic and trade relations between the Republic of Indonesia and the Kingdom of Saudi Arabia. The effort was realized by holding talks with a number of Kadin officials in various regions in Saudi Arabia and facilitating various business meetings between Indonesian and Saudi Arabian businessmen.
.
"At the end of 2018, we facilitated the holding of the first solo exhibition for Indonesian products in Jeddah for four days," concluded Consul General Hery.
.
The solo exhibition of Made in Indonesia Expo 2018 was held from November 28 to December 1, 2018 at the Jeddah Center for Forums and Events.