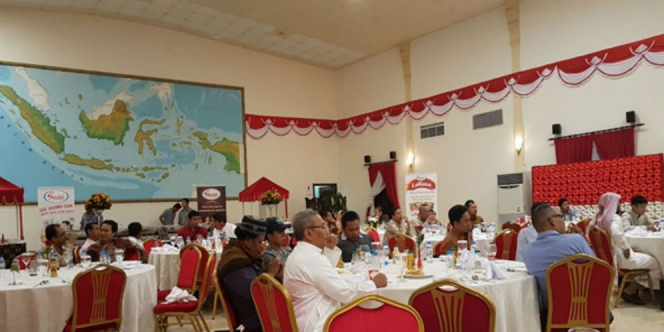 Economic team of Consulate in Indonesia mention the spice of Indonesia already familiar in tongue of citizens of Saudi Arabia.
Dream – Manufacturers of Indonesian Cooking Spices and Foodstuffs PT Sasa Inti, prepares to build a factory in Saudi Arabia. The company will partner with local partner Sami Alkhatiri Est.
President Director of PT Sasa Inti, Ronny Imbar said the construction of the plant to meet the demand of the Middle East market. In addition, the opening of the factory in Saudi Arabia was done after the Saudi Food and Drug Authority (SFDA) gave permission.
In the framework of promotion, PT Sasa Inti has held the agenda B to B, from 2 to 4 November 2017. On that occasion as many as 80 partners Economic Team and Trade Consulate General attended. In addition, also held a festival of food and beverage Indonesia at the People's Party packed with more than 4 thousand citizens in Wisma KJRI Jeddah.
Consul General of Indonesia in Jeddah, M Hery Saripudin conveyed the purpose of B to B meeting to educate and disseminate the information of PT Sasa Inti and WNI products in Saudi Arabia that could become the 'promotional ambassador` of Sasa products.
"The key to the success of this promotion is by making a more intensive and effective approach to all Indonesian citizens as well as Indonesian diaspora working in Saudi Arabia," Hery said in a written statement received by Dream on Monday, November 6, 2017.
This effort, Hery said, as a follow-up of the strengthening of Indonesia's non-oil exports to Saudi Arabia.
Head of ITPC Jeddah and member of Economic and Trade Team of Consulate General Jeddah Gunawan said food and beverage commodity is one of the 10 potential commodities entering Saudi Arabia market.
Other main and potential commodities are automotive, palm products, fish and fish processing, rubber products and rubber processing (including tires), plywood, pulp and paper, textile and textile products, wood furniture, home décor and building materials .
Based on the survey of Economic and Trade Team of Consulate General in Jeddah 2016, in Jeddah, there are 94 stores and two 22 restaurants managed by Indonesian citizens. In the last 5 years, many branches of Indonesian restaurants in Saudi Arabia, such as Bakso Mang Oedin in front of floating mosque, opening of Wong Solo Restaurant in Balad Jeddah, Mr.Sate opening in Syarfiah Jeddah area and opening of Batavia restaurant branch in Medina.
"The amount of Indonesian citizens who perform Hajj and Umrah and mukimin who live in Saudi Arabia is a captive market for Indonesian products, especially food and beverage products.
The people of Saudi Arabia have very much about Indonesia well and consider Indonesia as the second home for the citizens of Saudi Arabia, "said Gunawan.
Source : https://www.dream.co.id/dinar/produsen-bumbu-indonesia-siap-bangun-pabrik-di-arab-saudi-171106z.html