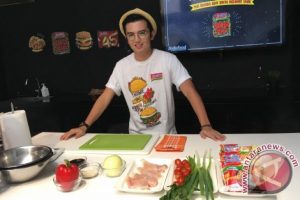 The people of Saudi Arabia have a tendency to bring Indonesian products, such as, Indomie and Pop Mie as "mandatory innate" if traveling out of the Arabian peninsula.
The success of putting Indonesia's "brand" into one of the mandatory icons in Saudi society is inseparable from the hard and creative efforts to introduce Indonesia's products continuously in the region, said the Economic and Trade Team's warning to the Joint Consulate General in Jeddah, received by Antara in Jakarta , Saturday.
In fact, the entry of Indomie and became one of the favorite foods of the Arab community is inseparable from the success of Indonesian citizens, who work as a household assistant, who is trusted to manage the food menu for families, most of whom are local people in the country.
He said one of the successes in promoting Indonesian products in Saudi Arabia is through internal Indonesian citizens, who live in Saudi Arabia. Starting from the passion of Indonesian citizens who consume their own Indonesian products eventually many Indonesian products are so well known by the local community of Saudi Arabia.
Nowadays it is not surprising that many Indonesian restaurants are invaded by local people who are very familiar with Indonesian food such as satay, soup, ice cendol, rendang, rawon, and various cuisines of the archipelago.
Consul General of Indonesia Jeddah, M Hery Saripudin said that all Indonesian citizens working in Saudi Arabia are "Nation Ambassadors" who must take part in promoting and promoting Indonesian products to local people of Saudi Arabia.
"Indonesians living in Saudi Arabia should work together, working together to increase the value of Indonesia's non oil and gas exports," he said.
The event is open together in the holy month of Ramadan attended by more than 400 WNI is the right time for Economic and Trade Team to conduct socialization and also campaign of love Indonesian products for the citizens of Indonesia.
Indonesian specialties such as ice cendol jackfruit, sweet martabak, pastel, tahu isi, rice, soup beef, roast chicken, sambal fried potato ati and stir-fry east carrots decorate open menu with Indonesian citizen at Balai Nusantara Consulate General of Jeddah held on Thursday 24/5).
Not to mention the cold drinks of sosro bottle tea and Danish biscuits as well as Joy Stick also enliven the open activities together.
Gunawan, Head of ITPC Jeddah member of Economic and Trade Team of Consulate General of Jeddah added that one of the Indonesian food and beverage importing companies in Saudi Arabia which has successfully brought Mayora products in 2017 namely Muhammad Bawazir For Trading (MBT) through a director of marketing and development the business has told the Economic and Trade Team that MBT will be committed to continuously increase the import value of Indonesian food and beverage products to Saudi Arabia.
MBT also said that it will continue to support the promotion of Indonesian products through a joint activity organized by the Consulate General of Jeddah until the end of Ramadhan Year 1439 Hijriyah.
Sosro Bottle tea importer, Sami Al Khatiri Trading EST, is also determined to promote joint Economic and Trade Team through the joint activity. Based on the information, Sami Al Khatiri Trading EST this year also made a commitment with one of the producer companies in Indonesia to bring Juice ABC drink, which can soon be found in Saudi Arabia along with other products, such as ABC and ABC Sauce. The product was imported directly from Indonesia with a value of about 500 thousand US dollars or equivalent to Rp 7 billion.
Source : https://www.antaranews.com/berita/713654/warga-arab-saudi-melancong-bawa-produk-indonesia