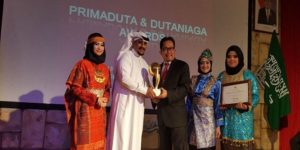 Importer of Indonesian products for Saudi Arabia, Mizanain Marketing and Trading received Duta Niaga Award from Consulate General of Jeddah. Mizanain is an importer that introduces typical Indonesian balm such as Bal Lang Balm and Geliga rubbing Balm to Saudi Arabian consumers.
In addition to giving awards, the Consulate General of Jeddah also conveyed the Primaduta trophy handed by President RI Joko Widodo (Jokowi) during the 32nd Trade Expo Indonesia in BSD, Serpong, Tangerang on October 11, 2017.
Saudi Arabian importer companies that have been awarded Primaduta namely Abdul Latif Jamil for Manufacture and Said Bawazer Trading Company (SBTC) category for Food and Beverage Industry category.
"The awards ceremony of Primaduta and Duta Niaga is a tradition of the Consulate General in Jeddah to appreciate and enhance the ties of economic and trade cooperation between the two countries," said JULY Consul General M Hery Saripudin, through an official statement to Dream on Tuesday, December 13, 2017.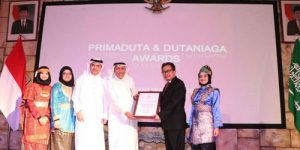 Meanwhile, Vice Chairman of Jeddah Chamber of Commerce and Industry, Ziyad Basal al Basam appreciated the award. Ziyad wants cooperation between Indonesia and Saudi Arabia not only limited to economy and trade only.
"But relationships in various sectors are good investment, tourism, and other sectors," said Ziyad.
Based on Trade Statistics of the Ministry of Trade data, the total trade between Indonesia and Saudi Arabia during the period of January to September 2017 reached US $ 3.33 billion, equivalent to Rp44 trillion, an increase of 9.64 percent compared to the same period in 2016 which reached US $ 3 , 04 billion, equivalent to Rp 41 trillion.
Head of ITPC Jeddah Gunawan said non-oil export to Saudi Arabia until September 2017 was recorded at US $ 1.079 billion, or equivalent to Rp14, 6 trillion. Increased by 5.58 percent compared to the same period in 2016 worth US $ 1.022 billion, equivalent to Rp13, 8 trillion.
Indonesia's total non-oil and gas exports only supply 12.80 percent of Saudi Arabia's total imports in the same period in September 2017.