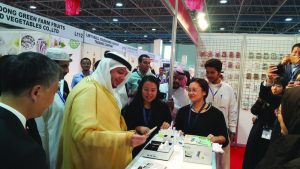 JEDDAH — JCCI Secretary-General Hassan Dahlan, inaugurated the 29th annual Jeddah International Trade at the Jeddah Centre for Forums & Events on Monday. The event runs until Thursday 23rd of November.
The Jeddah International Trade Fair 2017, organized by Al-Harithy Company for Exhibitions, brought together a multitude of products and services from major international suppliers comprising of national pavilions from China, Morocco, Egypt and Indonesia and individual companies from UAE, India and Saudi Arabia bringing together a wide range of Multi-Sector Products, clothing, fashion wear, textiles, leather goods, home décor accessories, appliances, information technology and many more.
"ACE is proud to host the Jeddah International Trade Fair for the 29th year. It is the only multi-sectoral event that is organized in the Kingdom allowing countries from around the world to display a wide array of products and service," commented Hadi Al-Harith, CEO ACE Exhibitions.
More than 100 top Chinese companies with high quality and competitive prices will attend JITF bringing more than 500 different products. The main products include of building material, textiles, food, electrical, auto parts, machinery and consumer goods.
Indonesia comprises of 15 displaying various commodities /business lines from these companies such as furniture, wood craft, coal briquettes, fashion, herbal, organic sugar, vitamin drink, oud and essential oils.
In 2016, Indonesian exhibitors at JITF marked potential transactions with long-term contract reaching $3 million. The target for this year's participation for potential buyers is to increase 10% in transaction value.
Jeddah International Trade Fair benefits Indonesia in effort to promote and increase Indonesian non-oil and gas commodities, also strengthen bilateral trading ties between Saudi Arabia and Indonesia.
The Egyptian pavilion is participating representing The Arab Republic of Egypt with 14 companies in addition to Egypt Expo & Convention Authority (EECA).
The display structure includes cookers, heaters, washing machines, coolers, display refrigerators, food distribution, cold and hot systems, solar systems (outdoor lamps), fans, microwave ovens, LED lamps, TV sets, vacuum cleaners, water filters, electric ovens, vacuum cleaners, various electrical appliances, detergents, pesticides, Paints, derivatives, fabrics, furnishings, embroideries, bedspreads and goldsmiths. As well as various kinds of children toys, chairs and prayer carpets, dairy products, cheese and cheese derivatives.
The first ever participation by Morocco will be supervised by Moroccan Center for Export Promotion.
19 Moroccan companies and contractors will be present at this Fair, representing various production sec-tors: textiles, leather, home textiles, cosmetics, electricity, renewable energies, in addition to industrial and engineering works…
These companies will have access to be cognizant of investment and marketing opportunities in Saudi Arabia and other Gulf countries noting that Saudi Arabia is a promising consumer market based on a population of 31 million individuals with an annual growth rate of more than 4%.
The most vital opportunities in Saudi Arabia are concentrated in the export sector, mainly in cosmetics, luxury goods, pharmaceuticals and textiles, as well as air navigation, and oil industry equipment sectors.
Therefore, the Moroccan offer in these sectors has all the qualifications and opportunities in order to access this market and in order to pinpoint to the quality of the products bearing the label "Made in Morocco"
Moroccan Center for Export Promotion organizes many events to enhance the presence and spread of Moroccan exports in the Arabian Gulf region by supporting Moroccan companies in trade fairs, holding meetings between Moroccan companies and their counterparts in the region, as well as participating in multi sector fairs. — SG
source : http://saudigazette.com.sa/article/522416/BUSINESS/JITF-2017-sees-tremendous-transactions-amid-big-participations